Cars may be smaller than trailers or buses—but they still have a major presence on the road when they're wrapped to promote your business.
If your fleet of cars is on the road every day, and it's not visually representing your company, you're missing a major opportunity.
First, what is a car wrap?
Like other vehicle wraps, a car wrap is a large vinyl graphic or decal. It is applied directly (to all or some of) the painted surfaces of your vehicle. It can change the color and entire look of your vehicles quickly, making way for vibrant, unique, and noticeable branding. The finish can either be gloss or matte. It is 100% removable providing a powerful opportunity for leased or owned cars.
Why is car wrapping unique?
Car wraps don't just spread awareness on the highways! If your vehicles are going to customers' homes or parking outside in their neighborhoods—which are filled with more potential customers—a car wrap an ideal way to gain exposure. The same is true if your vehicles are parking at your customers' places of business. Or if it's a company car that goes everywhere your employee goes, including to their homes. This is one of the differences between cars and most larger vehicles which are mainly traveling on roadways and stopping at corporate parks. Cars are more integrated into everyday travel, often allowing you and your message access to urban areas unavailable to large vehicles.
Other benefits of car wrapping include:
Car wraps have the ability to provide a flexible, powerful, and cost-effective advertising tool.
As your fleet grows, so does your marketing presence.
Car wraps can be removed quickly and return your vehicle back to its original condition if necessary.
Another bonus? Wrapping a car is less expensive than painting!
So, do you prefer plain white cars with no branding?
Or car wraps that get your company noticed—everywhere you go?
We think the choice is clear.
At Turbo Images, we can help you maximize your fleet of cars and turn them into marketing machines. We can help maximize your budget by wrapping only a portion of each car (like side-door graphics) or we can do full car wraps over the entire painted surface. The colors and designs are limited only by your imagination.
Here is an example of car wraps we've done at Turbo: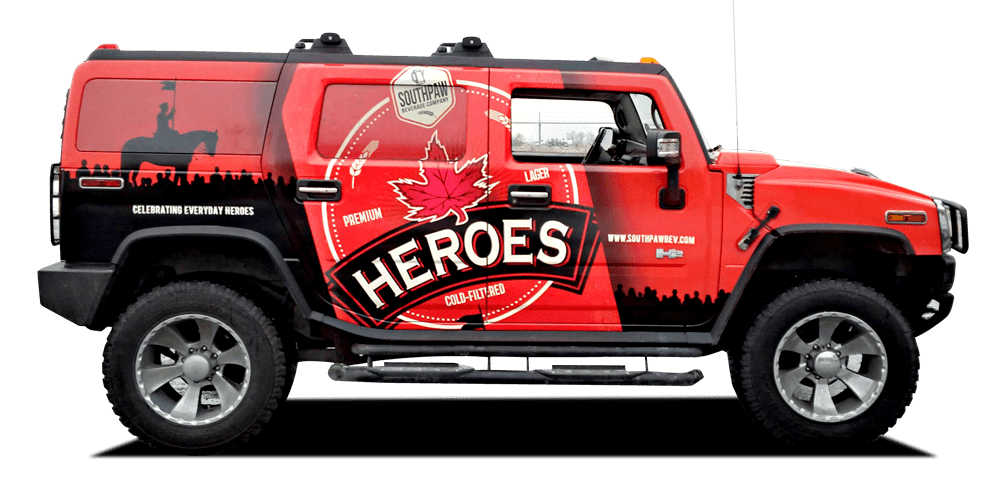 Unbelievably awesome! It looks wicked and will have a tremendous impact. It has the WOW Factor!! It truly will make a difference!!! We would like to congratulate your team. Thank you!
Murray Milthorpe
Southpaw Beverages, Ontario
See other projects we've done in our portfolio!